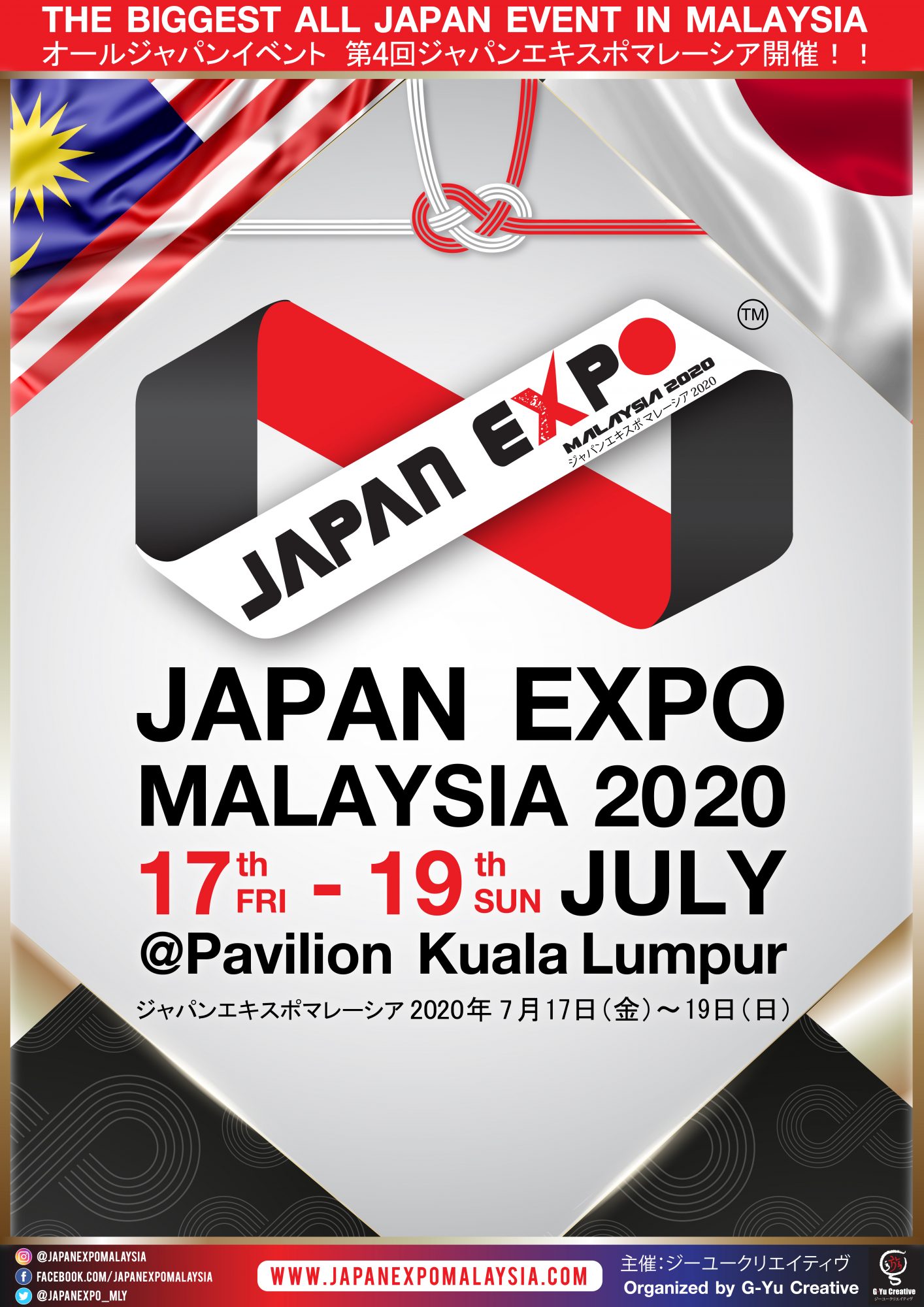 JAPAN EXPO MALAYSIA 2020,
ARE YOUR READY?!
The year 2020 has dawned on us and we are all very excited because this year is a special year for us. Tourism Malaysia has listed Japan Expo Malaysia 2020 in their Visit Malaysia 2020 events and festivals calendar. We would like to take this opportunity to sincerely thank Tourism Malaysia for their support in Japan Expo Malaysia since 2017, the start of our event and their belief in our event.
This year Japan Expo Malaysia 2020 will be held at Pavilion KL, from 17th – 19 July 2020, and our vision is for all visitors to experience Japanese traditions, culture, and art through a sensory journey. We will gather all the latest J-Pop Culture, anime, fashion, food, education and many more under one roof!
Japan Expo Malaysia is organized by G-Yu Creative Co.,Ltd. and co-organized by Siam Connection Sdn Bhd. Last year, 2019, the event drew more than 180,000 visitors locally and worldwide, it is possibly the largest Japanese Expo in Malaysia. Therefore, mark it in your calendar, inform your friends and family to join us in this all-star jam-packed event because we have exciting things lined up for you.
Last year, we invited the popular J-pop all-girl group AKB48 and DJ Hello Kitty to perform their first-ever live concert in Malaysia. There were also many other popular J-Pop artists for J-pop enthusiasts. We also had more than 150 participants in the Cosplay Parade. There were also education institutes to advise potential students of their educational entry into Japan. There were also delicious Japanese delicacies for the visitors at the food zone. Those who have not been to Japan or those who wanted to know more about interesting travel areas in Japan was excited with the many travels offers to various parts of Japan at the Travel Zone.
This year is no exception, we will have all the wonderful things lined up that Japan has to offer and more.
Stay tuned!
JAPAN EXPO MALAYSIA 2020,
ADAKAH ANDA BERSEDIA?
Tahun 2020 telah akhirnya menjelang dengan membawa berita istimewa untuk kami. Kementerian Pelancongan telah menyenaraikan acara Japan Expo Malaysia 2020 dalam kalendar acara dan perayaan Tahun Melawat Malaysia 2020. Kami ingin mengambil kesempatan ini untuk menunjukkan penghargaan kami kepada Kementerian Pelancongan atas sokongan yang diberikan untuk Japan Expo Malaysia sejak tahun 2017.
Acara terkemuka,  Japan  Expo Malaysia 2020 akan dianjurkan  di Pavilion KL, dari 17-19 Julai 2020, yang bertujuan memberi peluang kepada pelawat mengenali tradisi, budaya, dan seni Jepun dengan lebih mendalam. Pelawat akan menyaksikan budaya J-Pop terkini, anime, fesyen, pameran makanan dan  pendidikan dan pelbagai elemen  di bawah satu bumbung!
Japan Expo Malaysia  yang dianjurkan oleh G-Yu Creative Co.,Ltd. dan Siam Connection Sdn Bhd telah mengukir nama sebagai  acara Jepun  terbesar pada tahun lepas, dimana seramai 180,000 pengunjung telah melawat  dari seluruh dunia. Oleh itu, jangan ketinggalan! Tandakan tarikh penting ini di kalendar anda dan  maklumkan kepada  rakan dan keluarga anda untuk menyertai acara sensasi  ini kerana kami telah telah menyusun pelbagai persembahan  yang menarik untuk anda.
Pada tahun lepas, kami telah menjemput kumpulan J-pop terkenal,  AKB48 dan DJ Hello Kitty untuk mengadakan konsert pertama mereka di Malaysia. Peminat J-Pop turut  dihiburkan oleh  ramai artis J-pop  yang lain. Persembahan Cosplay telah memperolehi sambutan yang begitu hangat sehingga lebih daripada 150 peserta telah menyertainya. Selain hiburan dan pameran seni, pelajar-pelajar yang berminat untuk melanjutkan pelajaran mereka di Jepun dapat bersekemuka dengan institusi pendidikan untuk mendapatkan nasihat mengenai pendaftaran kursus pendidikan di Jepun. Makanan Jepun yang sememangnya diminati di kalangan masyarakat Malaysia turut dihidangkan  di Zon Makanan.  Pengembara yang tidak pernah ke Jepun dapat mengetahui mengenai kawasan dan pakej pelancongan yang menarik di Zon Pelancongan
Susulan ini, Japan Expo Malaysia 2020  tidak terkecuali, kami akan menawarkan pelbagai perkara yang menarik berkaitan dengan Jepun.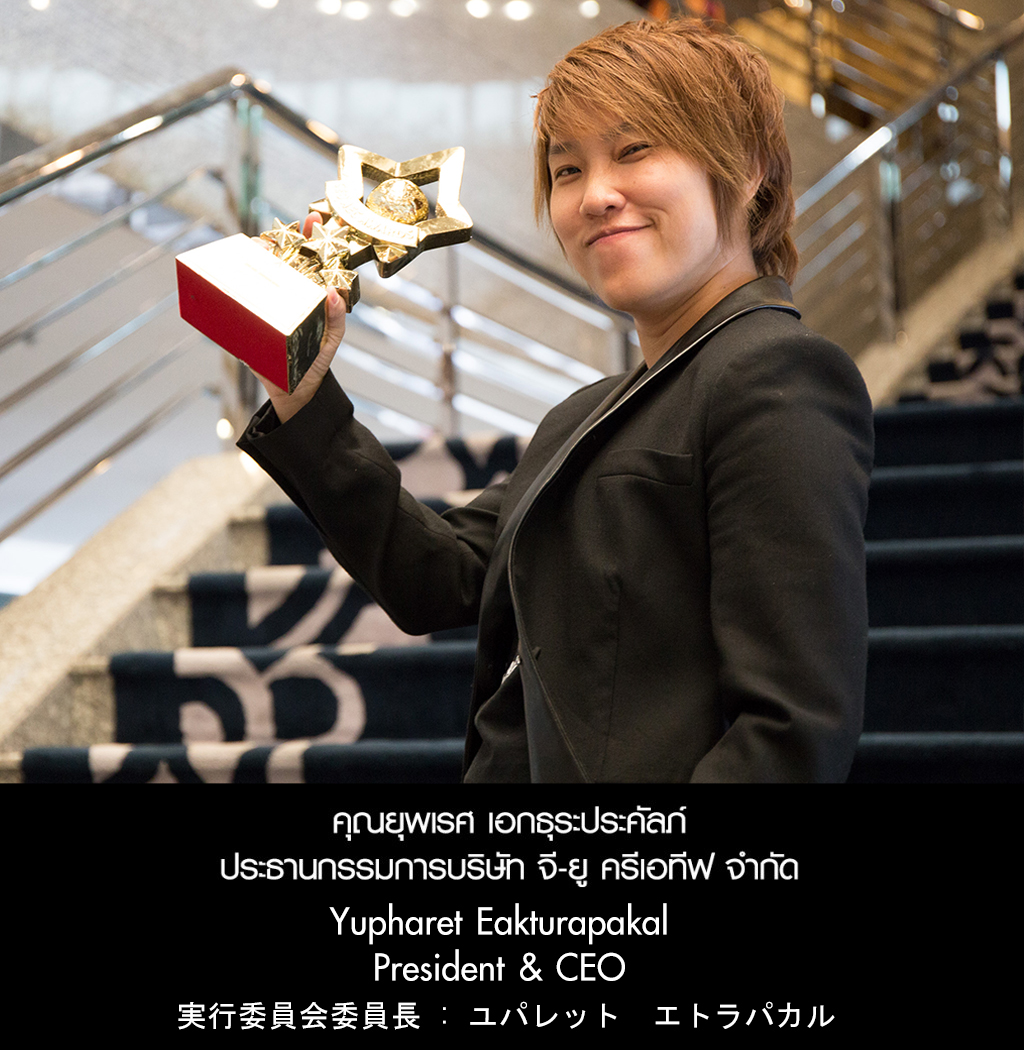 Message from President
My life has been so much involved with Japan, from studying the Japanese language since my school days, to working with the Japanese. My trip to Japan has been countless, perhaps a hundred trips, nevertheless there are always new things for me to explore the wonder of Japan. I believe many people would feel the same way. I feel Japan and Thailand has a unique relationship which I cannot describe, it's just like a perfect friendship by destiny! In Thailand, our society has absorbed and learnt so much about the Japanese culture, food, technology, as well as trading. …
Ms.Yupharet Eakturapakal
President of G-YU Creative.
Awarded 'Pra Kinnaree 2016"
Awarded " CEO AEC AWARD 2016"
Awarded "Best Biz & Products Awards 2017"
Awarded " CEO AEC AWARD 2017"

VIDEO HIGHLIGHT : JAPAN EXPO MALAYSIA 2019