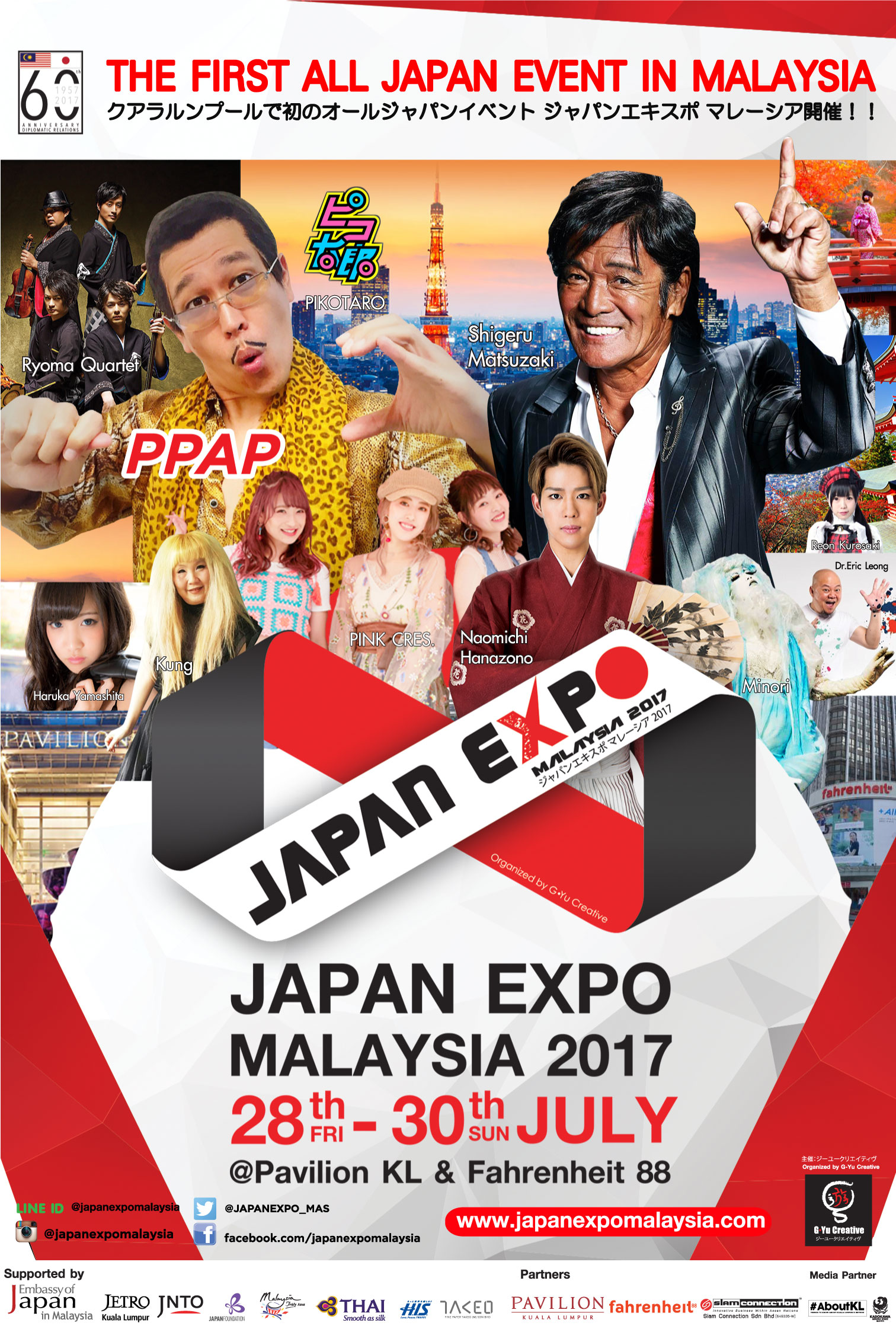 JAPAN EXPO MALAYSIA 2017
Are you ready? 
Japan Expo Malaysia 2017, the first all Japan event of the year, that you can't miss!! Let's celebrate the 60th Anniversary of the Establishment of Malaysia-Japan Diplomatic Relations. 
• Get ready to dance ! Catch live performances from Japan Viral-Hit Pop Sensation that goes worldwide, "Pen Pineapple Apple Pen" (ペンパイナッポーアッポーペン) by PIKOTARO, win a chance to join Exclusive Meet & Greet

• First live performance in KL from Japanese legend singer and actor, Shigeru Matsuzaki (松崎しげる)

• Let's welcome & enjoy singing "Yo-Kai Watch!" with "Maiko from King Creamsoda"

• Savour the sounds of Ryoma Quarter , with the creed of "communicating the soul and culture of Japan to the world"

• Enjoy performances by Japanese famous traditional dancer, Naomichi Hanazono,

• Meet Japanese Idol, HARUKA YAMASHITA, a member of "SPRING CHU♡BIT" and Reon Kurosaki

• Enjoy fashion show from iconic fashion designer, HARAJUKU IN KL Black Beetle, Liv-Berty & Lah'Lah'Land & cool boys and girls from "MONSTER KIDX"

• Meet "Minori" the Shironuri Fashionista and let's join "Cosplay& Harajuku Fashion Walk 2017"

• Let's enjoy Japanese traditional Pagong " Introduction of Japanese Traditional " Wa " Concept by Pagong & Muslima Fashion Show by Otousagi "

• Shopping Japanese products; 360 camera that shoots everything in one shot from Ricoh, also the excellent silk scarf from a century old factory "Kimono" dye factory by gathering dyeing technique from Kyoto and best-seller En-tout-cas umbrella and hat from Japan a lot more!

• Visit booths of Kyoshin Language Academy, Tokyo and Saitama International School, Saitama at Study in Japan zone
JAPAN EXPO MALAYSIA 2017
DATE: FRIDAY 28TH – SUNDAY 30TH JULY, 2017 @ Pavilion Kuala Lumpur & Fahrenheit 88 ,MALAYSIA. STAY TUNED!!
JUMAAT, 28TH – AHAD, 30HB JULAI, 2017 @ Pavilion Kuala Lumpur & Fahrenheit 88, MALAYSIA. Semoga setia bersama kami untuk maklumat selanjutnya.
オールジャパンイベント・ジャパンエキスポがマレーシアにやってくる!
イベント名:ジャパン エキスポ マレーシア2017
会場:@ Pavilion Kuala Lumpur & Fahrenheit 88
内: 2017年7月28日(金)~ 30日(日)
運営(Organized by):ジーユークリエイティヴ (G-Yu Creative Co.,Ltd)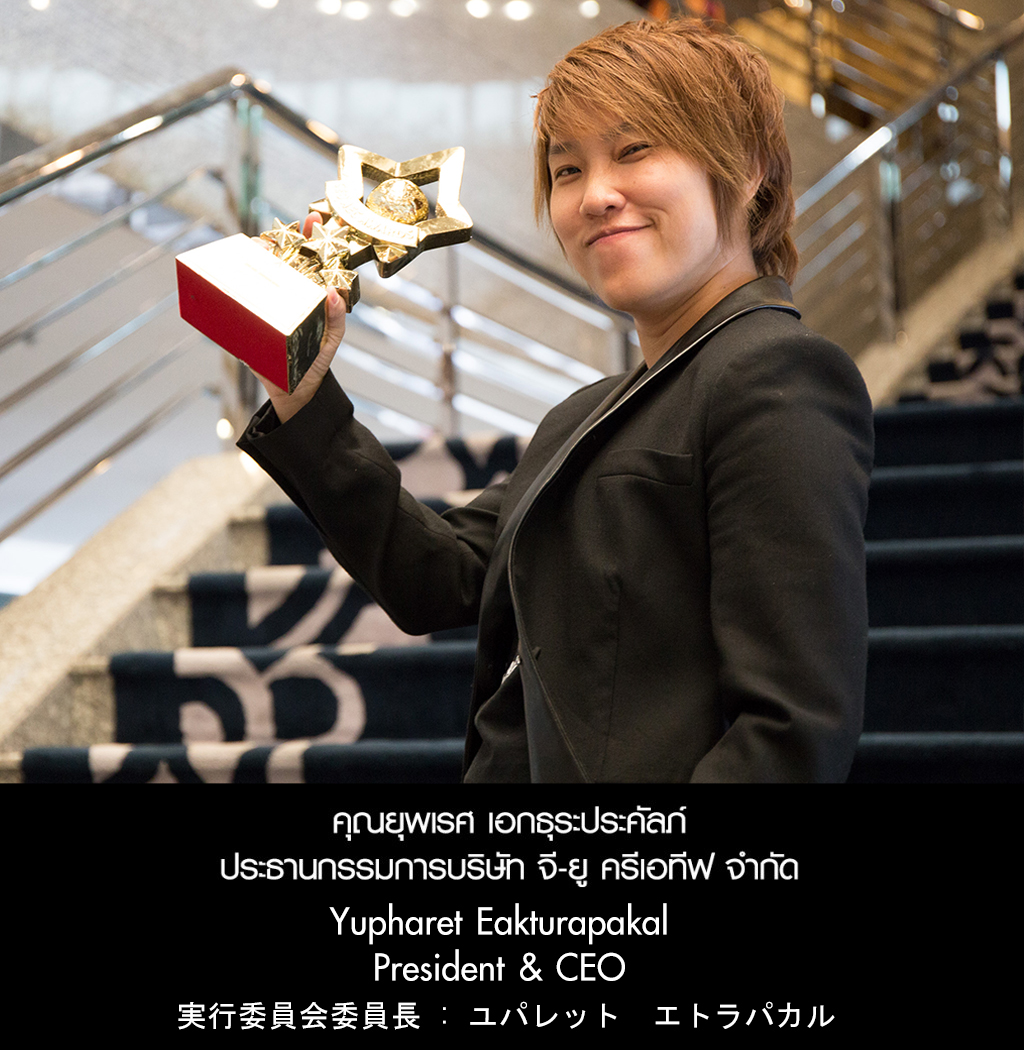 Message from President
My life has been so much involved with Japan, from studying the Japanese language since my school days, to working with the Japanese. My trip to Japan has been countless, perhaps a hundred trips, nevertheless there are always new things for me to explore the wonder of Japan. I believe many people would feel the same way. I feel Japan and Thailand has a unique relationship which I cannot describe, it's just like a perfect friendship by destiny! In Thailand, our society has absorbed and learnt so much about the Japanese culture, food, technology, as well as trading. …
Ms.Yupharet Eakturapakal
President of G-YU Creative.
Awarded 'Pra Kinnaree 2016"
Awarded " CEO AEC AWARD 2016"
Awarded "Best Biz & Products Awards 2017"
Awarded " CEO AEC AWARD 2017"