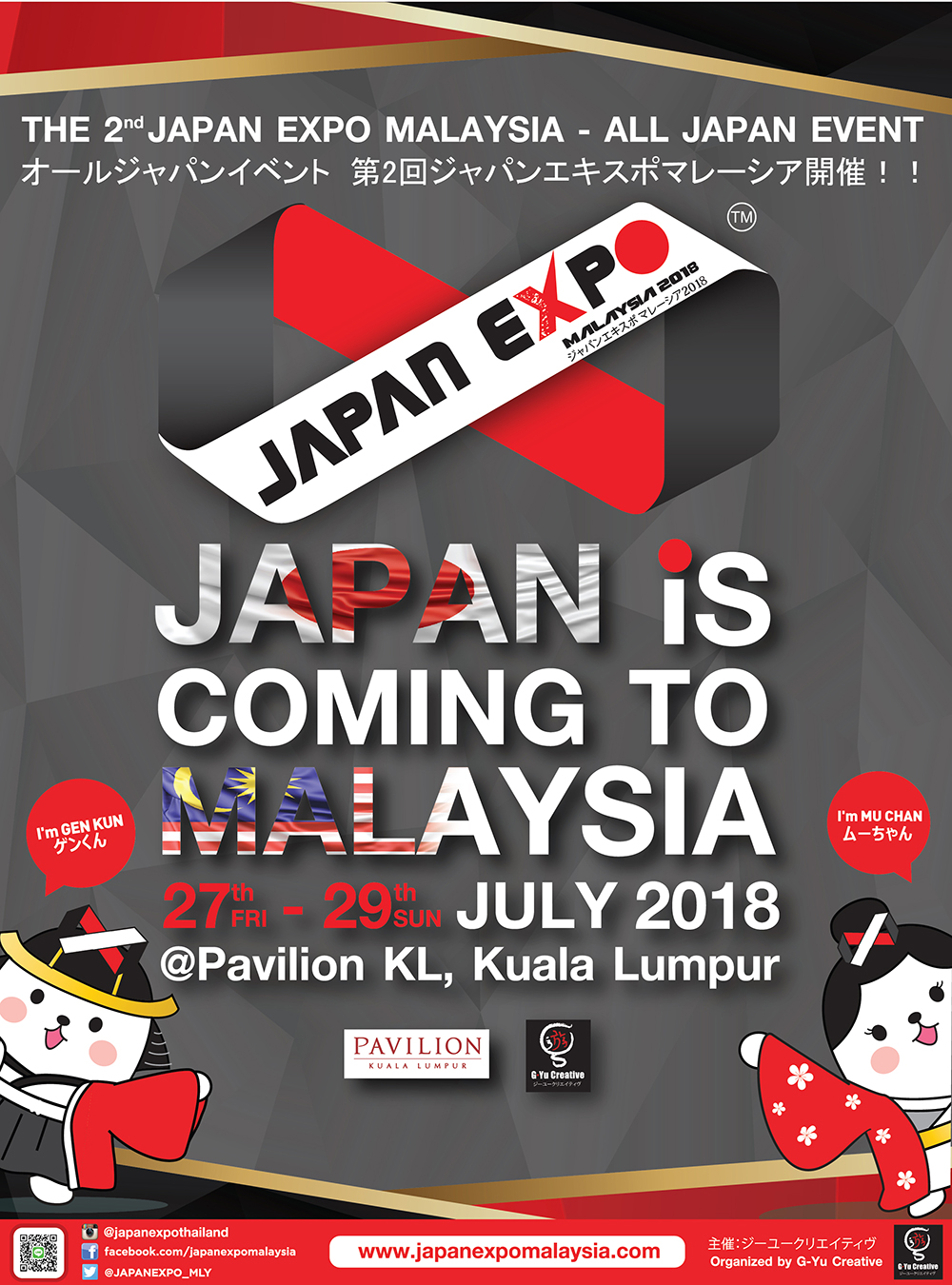 Japan Expo Malaysia 2017 shines in Japan-Malaysia's 60 Years Celebration! Lights Up Japan In the Heart of KL ! 
Kuala Lumpur, July 2017 – Japan ! and only All-Japan jeweled across KL's Golden Triangle nesting in Pavilion KL & Farenheit 88. Yes ! Japan Expo Malaysia 2017 has finally anchored; 28th July to 30th July 2017. A 3-day event that shimmered throughout Malaysia bringing more than 40'000 visitors and fans of the Japanese world together.
Japan Expo Malaysia 2017 in its inaugural franchise here in what is an All-Japan event covered all levels of Japanese charms under one roof; anime, culture, fashion, food, travel and live entertainment held at Pavilion, organized by G-Yu Creative Company, Japan Expo Malaysia coincides with the 6th anniversary celebration of Pavilion Kuala Lumpur's Tokyo Street and the 60th anniversary of Japan-Malaysia diplomatic relations.
It was officially launched by Mr. Hiroyuki Orikasa, Counselor to the Embassy of Japan in Malaysia, Ms. Yupharet Eakturapakal, President of G-Yu Creative, the organiser of Japan Expo Malaysia 2017, Puan Sri Cindy Lim, Executive Chairman of Kuala Lumpur Pavilion Sdn Bhd and Dato' Joyce Yap, CEO of Retail, Pavilion KL by dropping a red token into a unique vending machine. In an ode to the tremendous support from Japan Expo Malaysia 2017 partners, Ms. Tomomi Kabayashi, Executive Vice President, G-Yu Creative Co. Ltd, Mr. Akira Kajita, Managing Director, JETRO Kuala Lumpur, Mr. Horikawa Koich, The JAPAN FOUNDATION Kuala Lumpur, Ms. Chiemi Maruyama, Japan National Tourism Organization, Mr. Nivat Chantarachoti, General Manager, Thai Airways International PCL, Mr. Mohd Akbal Setia, Director of Tourism Malaysia KL, Ms. Kung Kunita, Designer from Thailand and Naomichi Hanazono were invited on stage for Grand Opening.
"Japan Expo Malaysia 2017 aims to incorporate all of Japan's charm into one event, showcasing multiple genres of Japan's originates under one roof – from artistes, culture, fashion to food, even education. Every part of this event is a highlight in itself and we thank Pavilion KL for being the perfect host for our first event," said Ms. Yupharet Eakturapakal.
The performance of Pop Sensation PIKOTARO. Famous for his viral song, PPAP or better known as "Pen-Pineapple-Apple-Pen", it's the first time PIKOTARO performing in Malaysia, awakening of at least 20'000 fans set the stage for this brilliant inaugural Japan Expo Malaysia and he wow'd! the crowd with not only his hit but also 'I Love Orange Juice ! that was witnessed by a sea of followers in Center Court at Pavilion.
The addition of the cultural Naomichi Hanazono, unique instrumental musicians Ryoma Quartet, idols Haruka Yamashita & Reon Kurosaki only made the show brighter with their brilliant individual performance. Hit pop all girls band Pink Cres was also crafted in to the stage alight in the golden triangle. Thousand remained until the very last day and song, prompting Ryoma Quartet to do an encore after their last performance.and the presence of Mr. Shigeru Matsuzaki; a legendary ever green Japanese artist. His majestic voice silenced the full house on the final day.
Minori's halo around the cosplay is nothing short of a brilliant pull for the underplayed cosplay community flocking the scene and stage. Respected Thai designer Ms. Saruda Nimpitakpong; better known as Kung Kunitar also showered her presence in the Harajuku Style fashion line with the likes Liv-Berty & Lah Lah Land Group to further strengthen the tie between these neighbors and Japan.
The seamless flow of the event and overwhelming success in its very first year leans towards its partners according to the organizer, ' I am very thankful to the Embassy of Japan, JETRO, JNTO and The Japan Foundation in Kuala Lumpur for their support and I believe it will be a good start for us here in KL with a team work like this; said the Founder & CEO of G-Yu Creative; adding a special thank also to Thai Airways for always backing her efforts.
Yukata wearing and Origami workshop was among the highlights of Fahrenheit 88; which also became thee place to be amongst the teenagers with Japanese education, language opportunity were up for grabs as well as a spread of Japanese delicacies and some local-hit F&B ingredients.
This rise in interest for the Japanese market only points towards a bigger, better and extensive Japan Expo Malaysia 18′; with many fans already hoping the wait would not be too long !
For further information and updates, stay tuned!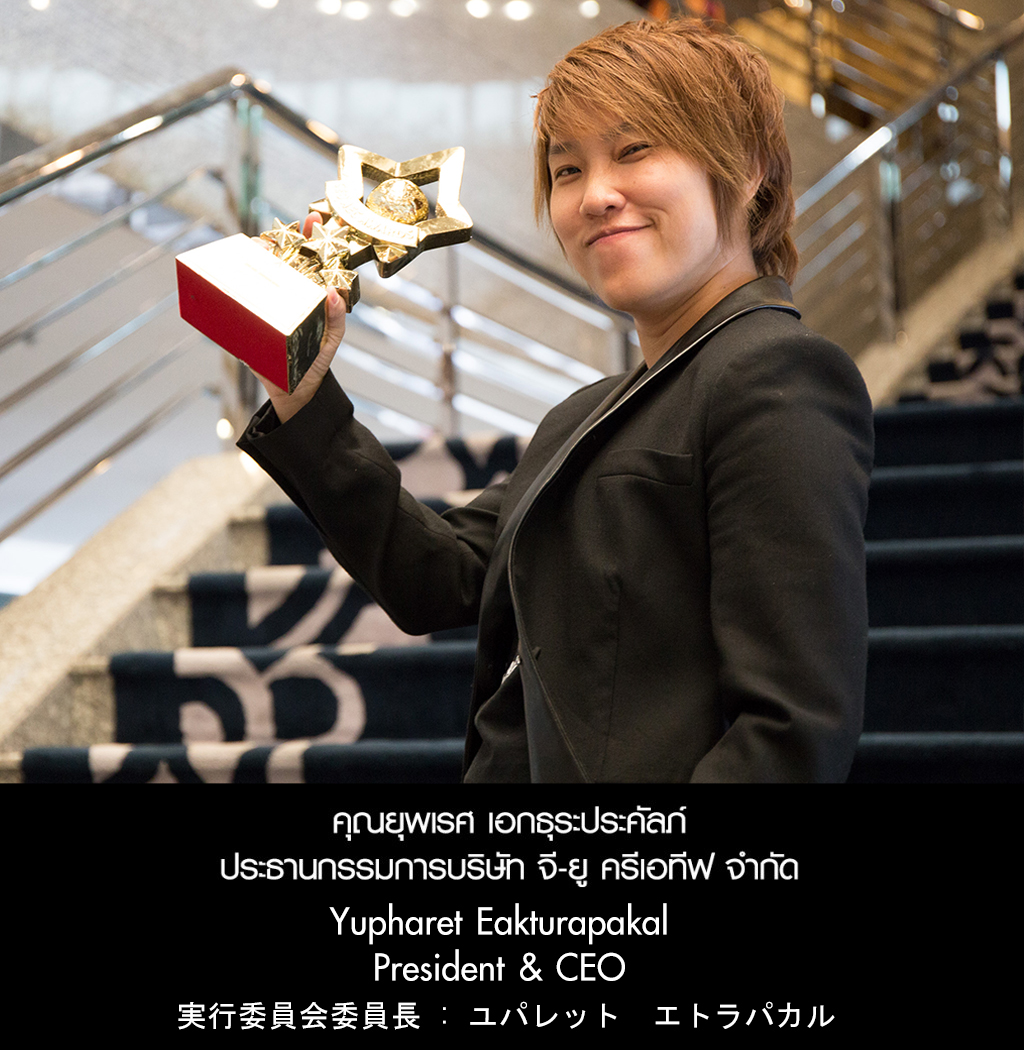 Message from President
My life has been so much involved with Japan, from studying the Japanese language since my school days, to working with the Japanese. My trip to Japan has been countless, perhaps a hundred trips, nevertheless there are always new things for me to explore the wonder of Japan. I believe many people would feel the same way. I feel Japan and Thailand has a unique relationship which I cannot describe, it's just like a perfect friendship by destiny! In Thailand, our society has absorbed and learnt so much about the Japanese culture, food, technology, as well as trading. …
Ms.Yupharet Eakturapakal
President of G-YU Creative.
Awarded 'Pra Kinnaree 2016"
Awarded " CEO AEC AWARD 2016"
Awarded "Best Biz & Products Awards 2017"
Awarded " CEO AEC AWARD 2017"

VIDEO HIGHLIGHT : JAPAN EXPO MALAYSIA 2017