SKE48

        SKE48 (short for Sakae48) is a Japanese Idol Group produced by Akimoto Yasushi. They are the 1st sister group of AKB48. The group has their own theater in Sunshine Sakae Building, in Nagoya (Aichi Prefecture). The 1st generation members were announced on July 30, 2008, debuting on October 5, 2008.
CONCEPT
        SKE48 was founded based on the concept of "idols you can meet". The group's chief producer Yasushi Akimoto once said that his aim was to create an idol group that is unlike any other ordinary idol groups (who only give occasional concerts and are mostly seen on TV). SKE48 would perform in its own theater regularly, and fans would always be able to watch the girls performing live. The SKE48 Theater is in the Sunshine Sakae of Nagoya, Aichi. Members of this group are dispatched into three groups, chronologically named "Team S", "Team KII" and "Team E". Kenkyūsei (trainees) is the group of members training to be promoted into one of these teams.
HISTORY
        Yasushi Akimoto was offered the chance to start a production in Nagoya along with the renewal of the Sunshine Sakae 2F, when he was thinking of expanding his "48 project" nationwide. He had offers from outside Japan, but he decided to use Nagoya as the place to move on with the project. Akimoto said that selected members from AKB48 and SKE48 may release a single together. They released their first single in 2009.
       In AKB48's single "Ōgoe Diamond", Jurina Matsui became the center and the first and only member of SKE48 to be featured on a single cover and in the song itself. Including Matsui, some members of SKE48 have appeared in the PV, marking the first collaboration made by the two groups so far.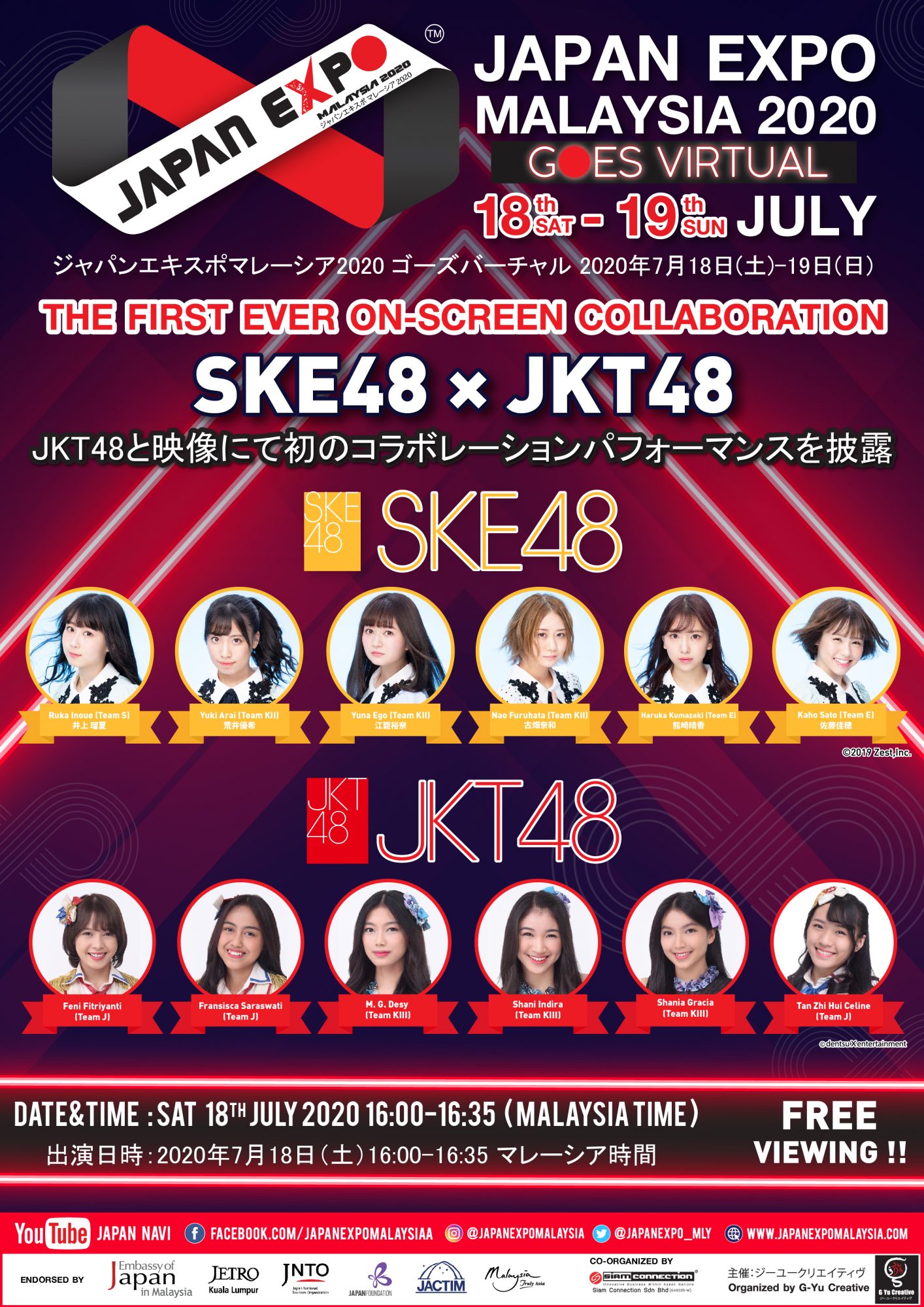 Are You Ready? Let's give a warm welcome to the 6 members from SKE48, (Sakae48) from Aichi, Nagoya, the first sister group of Japan famous idol group AKB48 in Japan and JKT48, the first oversea sister group of AKB48 from Jakarta, Indonesia!!
Don't miss! The first ever on-screen collaboration between SKE48 and JKT48 at Japan Expo Malaysia 2020 Goes Virtual!
■ SKE48 members:
1. Ruka Inoue (Team S)
2. Yuki Arai (Team KII)
3. Yuna Ego (Team KII)
4. Nao Furuhata (Team KII)
5. Haruka Kumazaki (Team E)
6. Kaho Sato (Team E)
■ JKT48 members:
1. Feni Fitriyanti(Team J)
2. Fransisca Saraswati(Team J)
3. M. G. Desy(Team KIII)
4. Shani Indira(Team KIII)
5. Shania Gracia(Team KIII)
6. Tan Zhi Hui Celine(Team J)
Remarks:
* Due to unforeseen circumstances, the organizer reserves the right to cancel or replace an alternative member.