JKT48

        JKT48 (read as "J. K. T. forty-eight") is an Indonesian idol group whose name is derived from its based city of Jakarta and the Japanese idol group AKB48. Formed in 2011, it is the first AKB48 sister group outside Japan and adopts the concept of "idols you can meet", before switching to "idols that will come to meet you" since 8 April 2018. The group opened its own theater in the 4th floor of fX Sudirman shopping mall in early September 2012. Fans can attend daily performances (except in Monday) at the group's theater, which was built as a close replica to the AKB48 Theater in Akihabara.
        While JKT48 does not restrict membership by nationality, applicants must be residents of Indonesia. As of 18 May 2020, the group has 37 individual team members, with one of them performs in two teams. It also has 34 Class A Academy members – formerly known as trainees.
CONCEPT
        Much like AKB48, the female Japanese idol group formed in 2005 in Akihabara, Tokyo, JKT48 is based on the concept of idols with whom fans can 'meet', or at least develop a similar feeling of intimacy. JKT48 takes its name from the group's base city of Jakarta, Indonesia. The country was seen as a potential market for the idol business because of its relatively young population—As of 2012 about half are under the age of 30—and the popularity of Japanese manga series, such as Slam Dunk and One Piece. In order to bring the concept of AKB48 to Indonesia, producer Yasushi Akimoto and Dentsu Media Group Indonesia partnered with the country's largest media conglomerate, Global Mediacom, and Rakuten.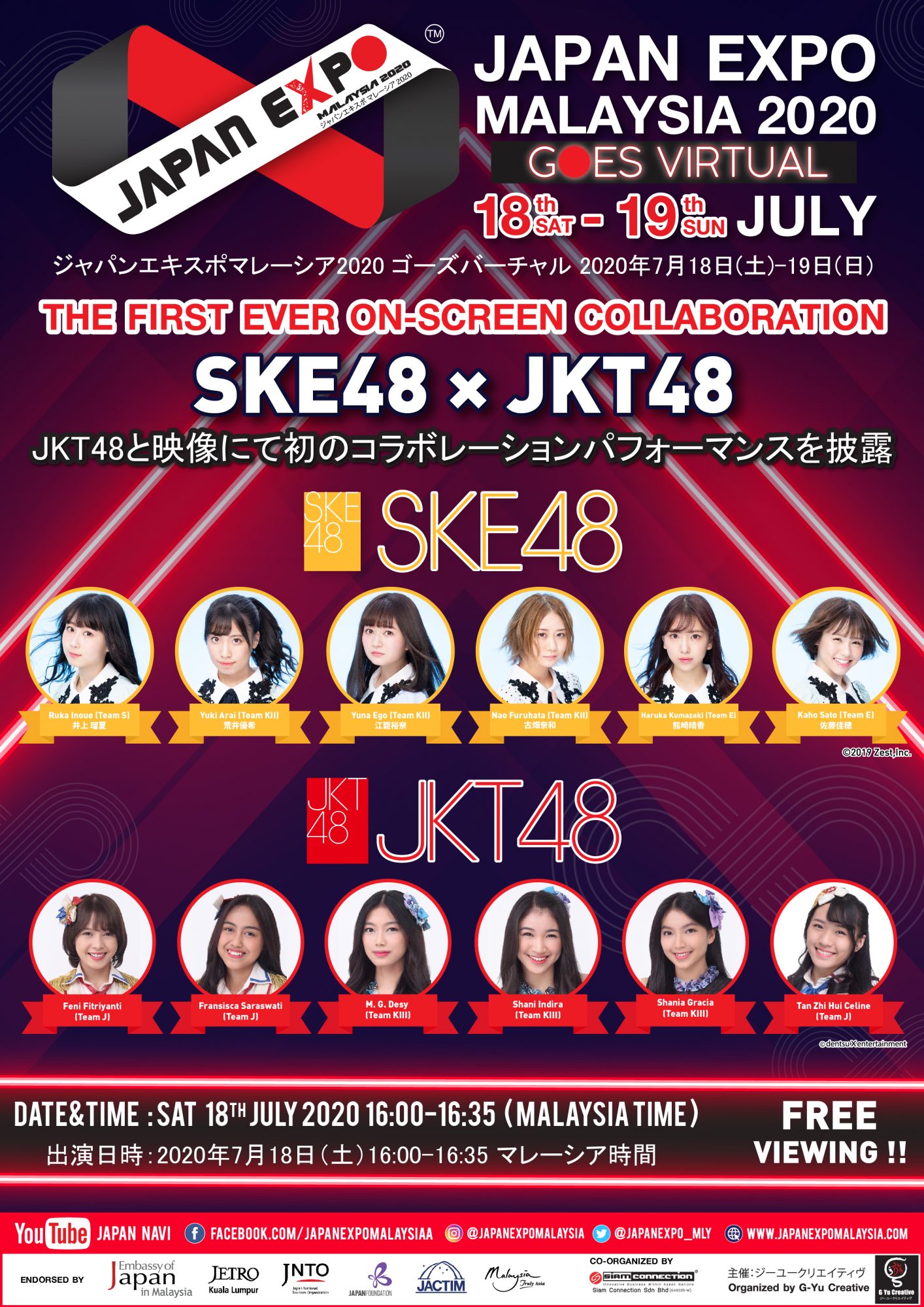 Are You Ready? Let's give a warm welcome to the 6 members from SKE48, (Sakae48) from Aichi, Nagoya, the first sister group of Japan famous idol group AKB48 in Japan and JKT48, the first oversea sister group of AKB48 from Jakarta, Indonesia!!
Don't miss! The first ever on-screen collaboration between SKE48 and JKT48 at Japan Expo Malaysia 2020 Goes Virtual!
■ SKE48 members:
1. Ruka Inoue (Team S)
2. Yuki Arai (Team KII)
3. Yuna Ego (Team KII)
4. Nao Furuhata (Team KII)
5. Haruka Kumazaki (Team E)
6. Kaho Sato (Team E)
■ JKT48 members:
1. Feni Fitriyanti(Team J)
2. Fransisca Saraswati(Team J)
3. M. G. Desy(Team KIII)
4. Shani Indira(Team KIII)
5. Shania Gracia(Team KIII)
6. Tan Zhi Hui Celine(Team J)
Remarks:
* Due to unforeseen circumstances, the organizer reserves the right to cancel or replace an alternative member.