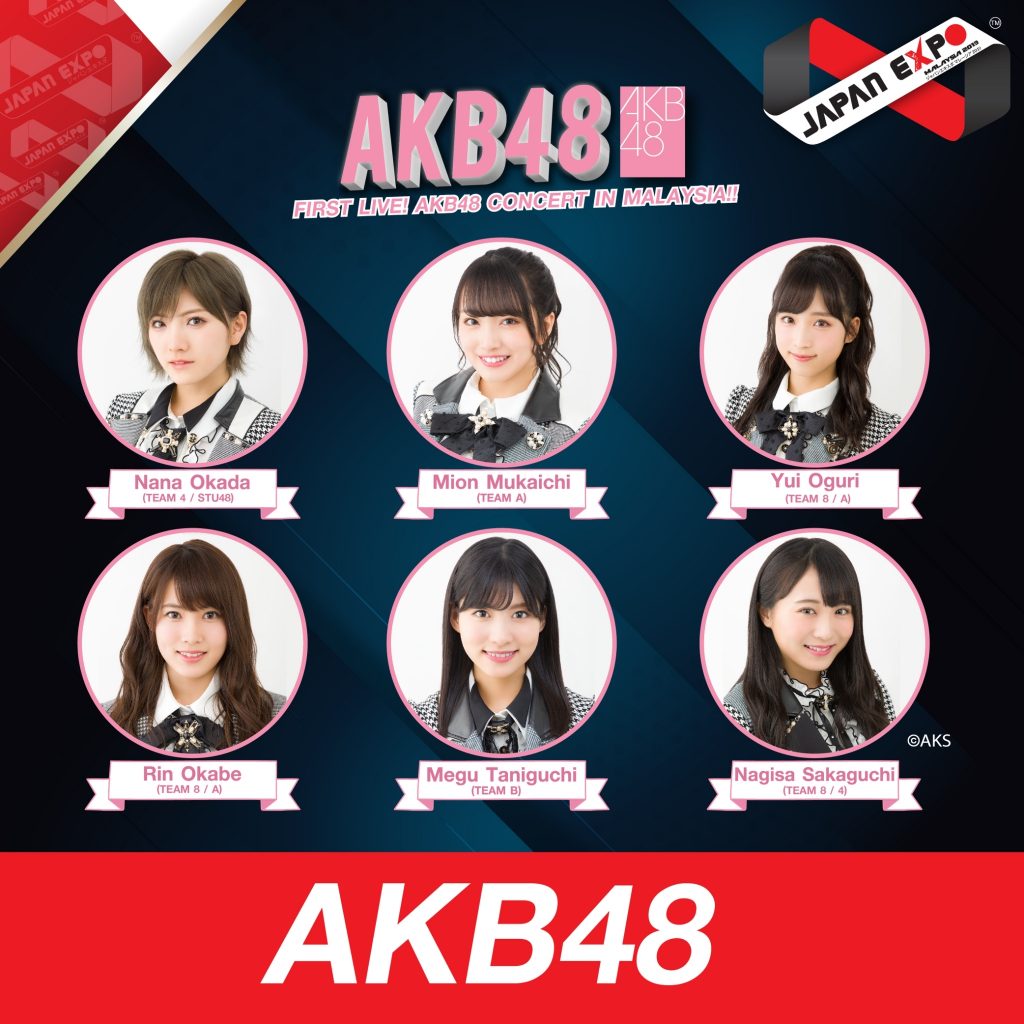 AKB48
FIRST EVER LIVE! AKB48 CONCERT IN MALAYSIA!!
Guess which members are performing at Japan Expo Malaysia 2019? Don't miss out on this free concert by Japan's top idol girl group "AKB48"
GET UP CLOSE AND PERSONAL! Stand A Chance for Exclusive Activity with AKB48 on Stage!!
JAPAN EXPO MALAYSIAのAKB48 Line upが解禁!
AKB48's Line up at JAPAN EXPO MALAYSIA is lifted!
Today, the list of members who will be performing at the first ever concert in Malaysia on the 27th July 2019, Japan Expo Malaysia has been officially announced
Members who will be pumping up the event are
Nana Okada (AKB48 Team 4/STU48) – Member of AKB48 Team 4. She has many experiences over the years and is also the captain of STU48.
She was assigned one of the Center position for AKB48's hit song and has her own Solo concert as well.
Mion Mukaichi (Team A) – Member of AKB48 Team A. From this year onwards, she will assume the General Manager position, which has been handed over from Yui Yokoyama.
Yui Oguri (Team 8/A) - AKB48 Team 8 Tokyo Representative, also a member of Team A. She is expected to lead the next generation members.
Rin Okabe (Team 8/A) – AKB48 Team 8 Ibaraki Representative, also a member and Captain of Team A.
Megu Taniguchi (Team B) – A member of AKB48 Team B.
Apart from her usual cute idol looks, lately she also started to challenge serious stages, showing off a different side of her too.
Nagisa Sakaguchi (Team 8/4) – AKB48 Team 8 Hokkaido Representative and also a member of Team 4. She was assigned as one of the Center position in the song after U-19 Senbatsu in  2018
本日、Japan Expo Malaysia は2019年7月27日にマレーシアにてはじめてデビューコンサートする出演メンバーを解禁しました。
ステージを盛り上げるメンバーは
奈々岡田(AKB48チーム4/STU48) – AKB48チーム4所属。長年にわたって様々な経験があり、STU48のキャプテンも兼任。
AKB48ヒットシングルのセンターを勤め、自分のソロコンサートも開催しました。
美音向井地(チームA) – AKB48チームA所属。今年から総監督(General Manager)を横山由依から引き継ぎ務めている。
有以小栗(チーム8/A) - AKB48チーム8東京都代表で、チームAも兼任。
次代を担うメンバーとして期待される。
麟岡部(チーム8/A) –  AKB48チーム8茨城県代表で、チームAも兼任。チームAではキャプテンも務める。
めぐ谷口(チームB) –AKB48チームB所属。
普段の可愛いアイドルというイメージとは別に最近はシリアスな舞台にも挑戦。変わった一面を見せる。
渚沙坂口(チーム8/4) – AKB48チーム8北海道代表でチーム4兼任。U-19選抜2018名義の楽曲ではセンターを務める